When we talk about long hair, we only think of the female side, but it seems that caring for long hair for men is one of the wonderful things that every man cares about as much as they take care of their hairstyle. And hair, just like the body, always needs to be monitored because the health of your hair starts from the root, and long hair requires much more care than short hair, so before your hair is fully grown, it is necessary to take care of it from the beginning. Continue reading our article to find out the answer to your question: " how to take care of long hair men".
how to grow long hair male :
The problem of light and falling hair makes those who suffer from it feel fear and anxiety, and hair loss may be due to multiple reasons such as unhealthy lifestyles, allergies, nutritional deficiencies, hormonal imbalances, malnutrition, genetics, and poor hair care, and we can use a lot of modern treatments and techniques to treat this is the problem.
1.Oil massage:
Experts say that the first step for hair extension is to take care of the scalp, and this is by massaging the scalp with many oils. within a period ranging from 5 to 10 minutes, then leave it to wash after 30 minutes with warm water.
2. Trimming the ends of the hair:
One of the best steps that you should work on is to trim the damaged and dry ends once every two months, and trimming the ends is meant to take about half a centimeter in length.
It is recommended to resort to a private hairdresser and avoid cutting hair at home; Because self-cutting leads to disasters in the long run.
3. Take nutritional supplements:
After consulting your doctor, you can take nutritional supplements and they can be purchased at pharmacies in the form of pills or tablets.
It has proven its effectiveness in nourishing hair and increasing its growth rate like biotin.
4. Use of eggs:
Eggs contain many nutrients for the body in general, so it is good for the process of hair growth in men.
Eggs contain natural ingredients such as important vitamins and proteins, that will nourish hair.
You can use eggs by mixing egg yolks with olive oil, then apply it to the scalp and massage well, leave it for a third of an hour and wash it with water and shampoo.
how take care of long hair men? :
Many men want to enjoy relatively long hair with a lively appearance, as the care of long hair for men requires more attention than usual, and, naturally, it is more prone to damage and problems than short hair.
Read on to find out how to take care of long hair men.
1. Hairbrush and comb:
Keep using a wide-tooth comb and a good quality hairbrush, these tools will help you maintain your hair and detangle without breakage.
2. Choosing a suitable shampoo and conditioner:
You should use types suitable for the nature of your hair, in addition to increasing the duration of cleaning by rubbing the hair more than usual.
The same applies to the conditioner, which should be part of your routine after washing the hair, and be careful to avoid hot water because it will strip the hair of its oils, so wash your hair with cold water, if it is not possible, use lukewarm.
3.Nutrition and health status:
You should know that the condition of your hair is directly related to the health of your body, as the quality of food plays an important role.
As well as stress and psychological stress, all are factors that affect the health of your hair, so we advise you to eat healthy food and drink adequate amounts of water.
4. duck hair and hat:
You should use a good quality hair tie and a wide hat, as tight ties and hats will cause the hair to pull and break.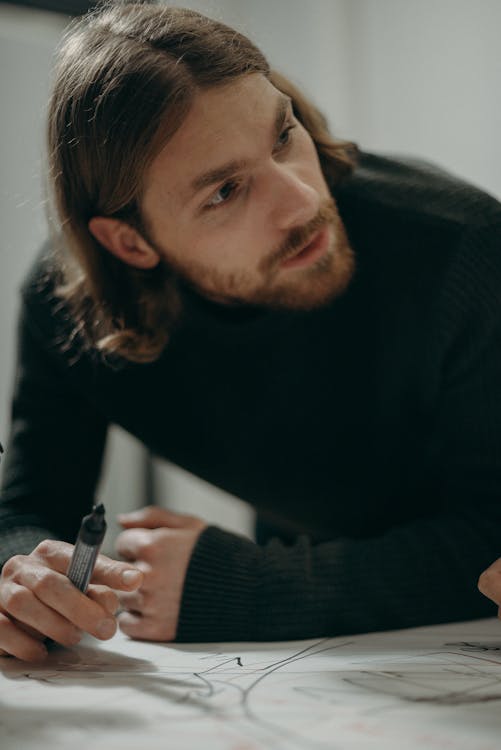 how to style long hair for guys :
Elegant hair is one of the most important things that add beauty and attractiveness to a man, so many of them want to have the latest and most beautiful hairstyles.
1. First hairstyle:
Shave a small amount of hair from the side of the head, and leave a medium percentage at the top.
Apply a very small amount of hair fixing cream, and massage it into your hair well.
Comb your hair to the right or left, keeping the flat look at the top, then straighten out a little hair in the frontal area.
2. Hairstyle for thick hair
Put a small amount of gel in your hands, and massage your hair with it well.
Lift your front hair towards the right or left, then raise your hair from the top of the sides towards the top towards the other side, for example: if you raise the front of the hair towards the right, raise the top of the sides towards the top towards the left.
3.curly hair hairstyle :
Wet your hair with a little water, then put a little fixing cream on it.
Dry it very slowly using a blow-dryer or hairdryer, at a low speed.
Myths and facts about long hair for men :
Myth: Men can train their hair to look a certain way.
Fact: Hair growth patterns are determined by the hair follicle. No matter how many treatments the hair undergoes or how often it is dried, combed, or styled, it will still grow the same. There is no doubt that you can dry your hair or style it with hair care products and change its growth pattern temporarily, but permanent change is not possible. If your hair is naturally straight or curly, there isn't much you can do about it.
Myth: Shampoo makes men's hair grow faster!
Fact: Every ad that claims that shampoo can make hair grow faster is false. Men's and women's hair grows at a very steady rate – about 1 cm per month – no matter what you do. There are certainly some shampoos that will make the hair appear thicker by inflating the hair follicles, and there are shampoos that can help prevent hair breakage.